I provide my ceremony music services with stress-free simplicity, at reasonable rates, and with a variety of options. 
"I would highly recommend Dave because of his wonderful musical abilities, his professionalism and also his reasonable prices. You will not regret your choice." Michelle from St. Louis
 Not every wedding is the same, and you don't want to pay for more than you need, or to miss out on a feature that is critical to making your day special!  So to allow me to give you a quote with some options, please be sure to FILL OUT MY CONTACT FORM.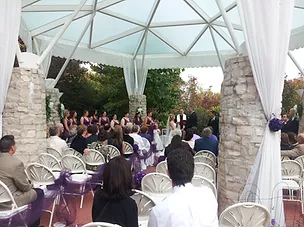 There are quite a few options for Ceremonies and Cocktails, and depending on the need of the client, we can provide services at different price points.
Ceremony for solo piano pricing ranges from $250-$500 but most couples tend to come in at around $250-400 for solo piano.
These are the most popular options that show where I break out price points.  Other features can be added including microphone and sound system rental for officiant use.
Choose from a limited range of traditional selections for ceremony.
10 minutes of prelude music
Email consultation until time of event.
20-30 minutes of Prelude Music from my repertoire 
Customize your Song Choices – pick from my repertoire, or request music for me to learn.
Local Events Only (greater St. Louis Area)
Consultation through phone and email until time of event.
Solo Piano and also Additional instrumentation options (cello, vocal, violin, etc.)  *additional fee applies
20-30 minutes of Prelude Music.
I will learn new music for you (for ceremony), assuming I can find sheet music!
If venue has no piano, I will bring a digital. I use Synthogy Ivory's software to beautifully and very realistically duplicate the sound of a beautiful steinway Grand Piano.
Will travel up to 2 hours for your event (fees apply)
1 Face to Face consult if desired + unlimited email/phone until the day of the event.
Option to attend rehearsal to coordinate and establish queues *additional fee applies
Discount on Cocktail hour if bundled with Ceremony and in the same space.
The  pricing for StLouisPianist services are very affordable and come in on the low end of the range suggested by sites like "costhelper" –http://weddings.costhelper.com/wedding-music.html
My music is performed at a very high level of excellence, and I provide a unique combination of services for ceremonies, cocktails, and receptions. My prices are affordable considering the value that I bring as a professional and as an artist to one of the most critical moments of your life.   
While Event pricing covers the time played, Ceremony Pricing factors in preparation and coordination leading up to it, including consultation with clients, event coordinators and venues, song selection and practice time.
A professional with a lot of wedding experience will be sure to factor this into their pricing to make sure that you are getting the attention you need for the most important day of your life.  Those who do not factor this in may come in at a much lower cost, but this reveals that they do not have the experience to make the distinction between what is involved with weddings vs. events.
A professional wedding vendor (in any whether photographer, coordinator, officiant or musician) who has many weddings a month is fielding and promptly responding to numerous communications from couples and other vendors while preparing and successfully executing multiple events.  A professional and experienced vendor will price to ensure that this can be their main focus. 
Let's Talk About Your
Wedding!
552 Cherry Ridge Ct, Ballwin Mo 63021
314-277-5020